Use our On-Line 100% Secure EncryptedShopping Cart Ordering System. Simply browse
our site and Click the ADD TO SHOPPING CART buttons to place items in your Shopping Cart
[ HOME ] [ COMICS ] [ MOVIES ] [ NOVELS ] [ CD-ROM ] [ Order info ] [ Help ] [ ARTIST SITES ] [ SEARCH ]
[ Disclaimer ] [ CATALOGUE ] [ Copyright ]
FANSADOX COLLECTION 334
THE SECT - SPINNER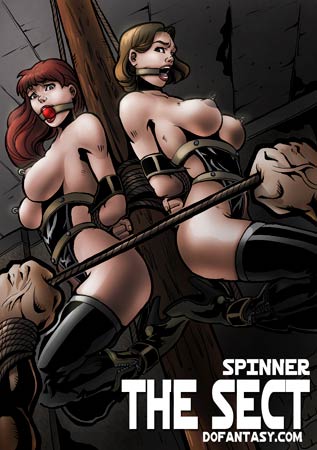 NEW IN PDF ELECTRONIC VERSION!
Adult Comic Album by SPINNER.
HIGH RESOLUTION PDF deluxe edition
44 full color comic pages!!!
-COMPLETE, UNABRIDGED VERSION-
ILLEGAL CASINOS, DRUGS AND
WHITE SLAVERY IN MODERN CHINA!

AN ARROGANT ASSASSIN FINDS OUT THE TRUTH ABOUT HER EMPLOYERS, THE SECT.

IMPORTANT NOTICE - DISCLAIMER
All characters are 18 years old or older.
This is an entirely fictional work based on
cartoon characters for adult entertainment.
It shows no real people or events.
The characters are shown participating in
CONSENSUAL role-play for their own
personal satisfaction, simulating activities
which involve sexual dominance and
submission. No actual toons were harmed
in the making of this comic.
BEAUTIFUL SASHA IS A KILLER WOMAN, LITERALLY!
WHEN SHE PISSES OFF HER BOSS, SHE GETS MORE THAN SHE BARGAINED FOR!
Pretty Sasha was orphaned at a young age. Her mother vanished without a trace, and shortly afterwards, her father was killed by a masked man clad in black.

Luckily for Sasha, her father's friend Leon took her in and raised her as if she was his own daughter. Even more, Leon taught Sasha the art of his secret organization: THE SECT.
Leon trained Sasha to be an excellent and efficient killer, and Sasha became one of the best. But still, Sasha wondered what had happened to her mother.
Perhaps it would've been better if she'd let sleeping dragons lie...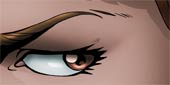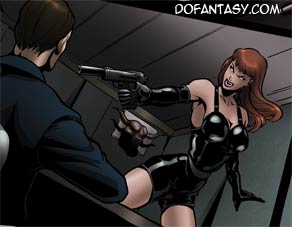 After killing a high priority target, Sasha discovers some dirty secrets about THE SECT. The most shocking secret she learns is that organization is funded by selling sex slaves!
Poor, pretty girls are kidnapped off the streets and sold to the richest, most powerful, and most wicked men the world has ever known!
Sasha herself is disgusted by this revelation.
Even more disturbing is the thought that her own mother might have been a victim of THE SECT's perverted sex slave industry!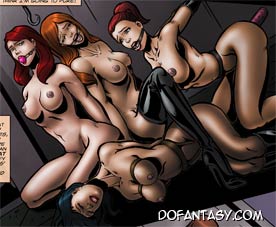 Sasha confronts Leon, but she gets more than she bargained for!
Leon does not take kindly to Sasha's meddling. He raised the girl as his own. He paid for her education. He paid for her training, and he paid for her slutty clothes.
The bitch had the nerve to shove a gun in his face!
Well, he'd teach HER who's the BOSS.
Sasha always thought she was the best, but she never reckoned with HIM. Leon didn't become leader of THE SECT by being soft. At heart, Leon is a cruel and wicked man, a much more dangerous opponent than Sasha had anticipated. He'll make sure she regrets her decision to challenge him, and he'll take his due out of her sweet, succulent ass!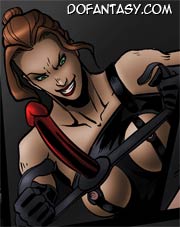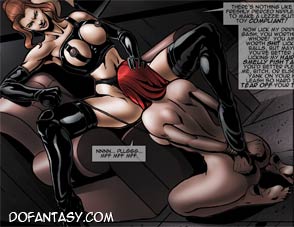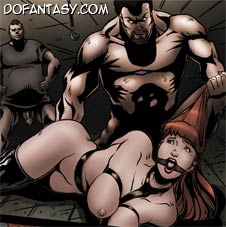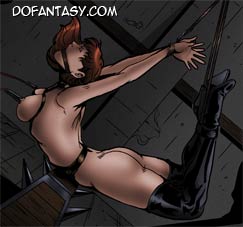 But Leon is a generous man. He knows what Sasha seeks and what the foolish assassin girl wants the most: her own dear, sweet mother. Leon knows exactly where Sasha's mother is, and he spares no expense to reunite the two dearly parted women...
Unfortunately for Sasha, that's not the end of the road. Not by a long shot. Leon has a long and storied history not only of successful assassinations, but he also has a long and successful career breaking willful slavegirls and making them compliant for their future masters' every desire.
Leon has accumulated a disgusting, perverted, and painful collection of tools and procedures specifically designed to humiliate a woman and break their bodies into a quivering mass of jelly!
Leon knew every single crevice, every sweaty, stinky fold of flesh, every delicate nerve ending in the most intimate and secret places that a woman has. More importantly, he knew every way to break a woman's will and turn her into the ultimate, money making slut!
It looks like Sasha and her dear, sweet mother are next on the menu!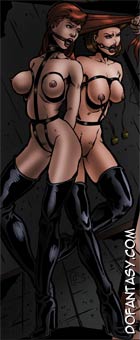 SPECTACULAR ART BY NEW ARTIST SPINNER
from KITTY HAND studio!!!
SPINNER KNOCKS IT OUT OF THE PARK YET AGAIN WITH THIS EXCITING AND THRILLING NEW COMIC! YOUR EYES WILL POP OUT OF THEIR SOCKETS WITH EACH GORGEOUSLY ILLUSTRATED PAGE DETAILING ONLY THE MOST SADISTIC AND PERVERTED ACTS OF BONDAGE AND SEX!
YOU DEFINITELY DON'T WANT TO MISS THIS BRAND NEW HOT, HOT, HOT ISSUE
EXCLUSIVE ONLY TO DOFANTASY.COM AND ITS LOYAL CUSTOMERS!