Use our On-Line 100% Secure EncryptedShopping Cart Ordering System. Simply browse
our site and Click the ADD TO SHOPPING CART buttons to place items in your Shopping Cart
[ HOME ] [ COMICS ] [ MOVIES ] [ NOVELS ] [ CD-ROM ] [ Order info ] [ Help ] [ ARTIST SITES ] [ SEARCH ]
[ Disclaimer ] [ CATALOGUE ] [ Copyright ]
FANSADOX COLLECTION 336
MODEL AGENCY - PYAT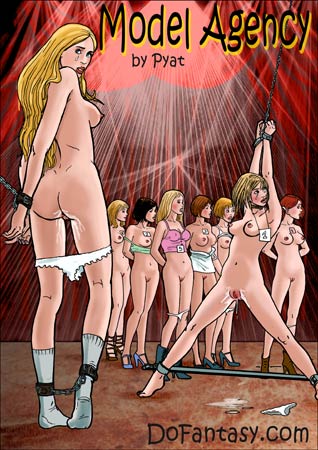 NEW IN PDF ELECTRONIC VERSION!
Adult Comic Album by PYAT.
Dialogs by SANDOW
HIGH RESOLUTION PDF deluxe edition
42 full color comic pages!!!
-COMPLETE, UNABRIDGED VERSION-
WHEN JULIE GOES TO BECOME A MODEL,
SHE FINDS OUT WHAT THE
JOB'S REALLY ABOUT!
INSTEAD OF BECOMING A SUPER STAR,
SHE IS LURED INTO SEXUAL SLAVERY!
IMPORTANT NOTICE - DISCLAIMER
All characters are 18 years old or older.
This is an entirely fictional work based on
cartoon characters for adult entertainment.
It shows no real people or events.
The characters are shown participating in
CONSENSUAL role-play for their own
personal satisfaction, simulating activities
which involve sexual dominance and
submission. No actual toons were harmed
in the making of this comic.
THESE FEMALE COLLEGE FRESHMEN SHOULD'VE BEEN MORE CAREFUL. A PREDATORY "MODELING AGENT" IS LOOKING FOR PRETTY GIRLS TO ENSLAVE, AND THEY'RE THE PERFECT CHOICE!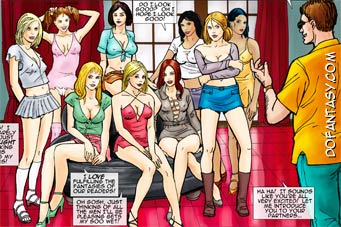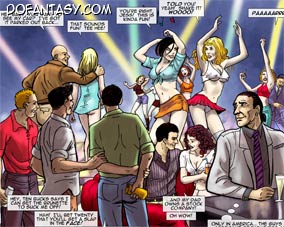 Julie and Jessie are two new college freshmen, each hoping to land a big modeling career and looking to have fun on the town.
Jessie convinces her friend, Julie, to loosen up a bit and try to relax. College is where they can party and pick up hot, young boys.
The two of them head to the latest party to try to score big social points when a mysterious and handsome stranger comes up to them on the dance floor. His name is Sylvester Weinstock, and he's a star agent of the Top Model Agency!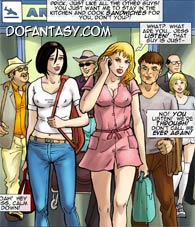 The girls have caught his eye. Sinister Sylvester tells the girls that he thinks they are perfect and that they'll quickly skyrocket to become world-famous models. However, he also tells them that they have to act fast, or else they might miss their chance.
Poor Julie and Jessie probably wish they'd never met Sylvester!
Julie and Jessie board the first overnight flight to Los Angeles as quickly as possible.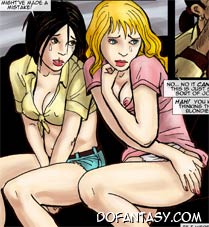 Sylvester meets them at the airport with a shady looking limousine driver, but the girls are so thrilled at the limousine that they don't notice that the driver looks kinda shifty and smells kinda bad.
But who cares!
They're going to become world famous models! The driver takes their bags, and the girls climb into the limousine, and Sylvester closes the door behind them.

The girls are so excited to be in the big city, but they don't know what the big city is. The limousine isn't taking them to the high rises where modeling agencies usually are. It seems to be driving out to the suburbs, away from prying eyes.
When Sylvester gets a phone call, the situation only gets weirder! What is he talking about? Buyers in Mexico? Pussies, tits, asses, and legs? How rude!
But things only get worse from there. Sylvester manhandles the girls, making sure that their "goods are intact."
The girls fight against him, but they're completely helpless against his brute strength.
Soon they realize they've made a big mistake, and it's a mistake that they will soon regret!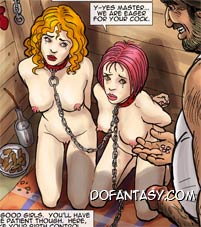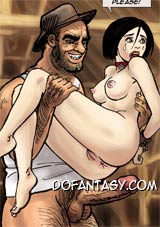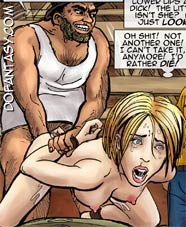 They're driven to a farmhouse on the outskirts of town, and there they meet the big, fat, and ugly Mistress Penelope, a sadistic lesbian dominatrix whose perverse cruelty is only matched by her awful smell!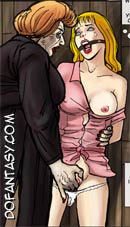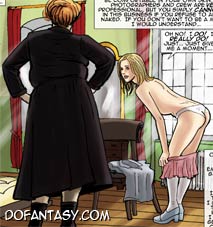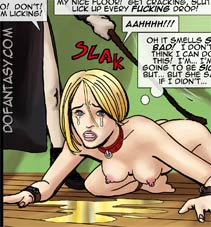 Even more terrifying, there's an enormous bear of a man who goes by the name of Mickey, and he's not only a violent, degenerate freak, but he's hung like a bull elephant! His specialty is breaking pretty young girls, especially virgins.
For the girls, and especially for young and innocent Julie and Jessie, the farmhouse seems like a living hell.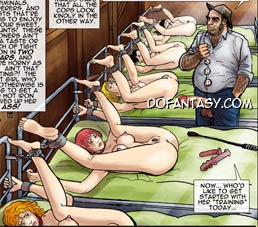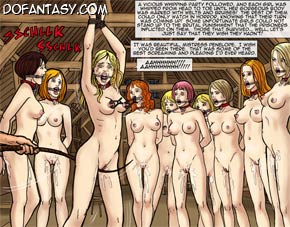 Things couldn't possibly get any worse, but neither Julie nor Jessie know how cunning and disgusting their captors are: Mistress Penelope violates all sense of privacy and decency and goes through Julie's personal belongings.
It seems that Julie has a gorgeous, blonde cousin who also dreams of becoming a model! Jackpot!
But the most terrifying thing of all is that the sadists keep talking about some "party" that'll be coming up in the next three days... Their captors sneer and grin. "You'll have fun at our party! They really like pretty young girls like you!"
What could these cruel and depraved perverts have in store for the poor girls?
It can't possibly be any worse than this hell...
Poor Julie and Jessie are in for the ride of their lives, and it won't be one they'll soon forget... or survive!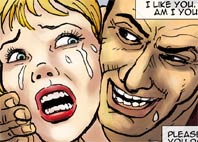 JULIE THINKS SHE'S GOING TO BECOME A WORLD FAMOUS MODEL, BUT IN REALITY
SHE'S ABOUT TO BECOME THE LATEST, FRESHEST SEX SLAVE OF THE AGENCY!
DOFANTASY HAS BROUGHT YOU AN AMAZING AND THRILLING STORY YET AGAIN!
THESE BEAUTIFULLY ILLUSTRATED PAGES CHRONICLE THE DESCENT OF A SWEET,
INNOCENT PAIR OF GIRLS FROM THE HEIGHTS OF COLLEGIATE HOPES TO THE DEPTHS
OF A PERVERTED AND SADISTIC SEXUAL ORGY!
THIS COMIC IS HARDER AND MORE INTENSE THAN ANYTHING YOU'VE EVER SEEN BEFORE!
DO NOT BUY THIS COMIC UNLESS YOU'RE INTO HARDCORE BONDAGE AND SEXUAL SLAVERY!
THERE'S NOTHING THIS EXCITING OR ANYWHERE ELSE ON THE WEB!
DON'T MISS THIS COMIC! BUY TODAY
ONLY FROM THE DEDICATED AND TALENTED TEAM AT DOFANTASY.COM!