Use our On-Line 100% Secure EncryptedShopping Cart Ordering System. Simply browse
our site and Click the ADD TO SHOPPING CART buttons to place items in your Shopping Cart
[ HOME ] [ COMICS ] [ MOVIES ] [ NOVELS ] [ CD-ROM ] [ Order info ] [ Help ] [ ARTIST SITES ] [ SEARCH ]
[ Disclaimer ] [ CATALOGUE ] [ Copyright ]
FANSADOX COLLECTION 393
CONFISCATED TWINS 6 - FERNANDO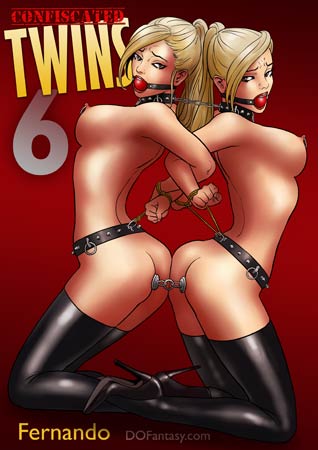 NEW IN PDF ELECTRONIC VERSION!
Adult Comic Album by FERNANDO.
HIGH RESOLUTION PDF deluxe edition
41 full color comic pages!!!
-COMPLETE, UNABRIDGED VERSION-
THINGS GET REALLY BAD FOR THE BAUER SISTERS AND THEIR MUFF DIVING MOTHER AS AMANDA AND COLONEL DAN MURPHY DO THEIR WORST TO THE GIRLS' BEAUTIFUL BODIES!
AS AMANDA WEAVES AN INTRICATE WEB OF PERVERTED PLAN ATOP PERVERTED PLAN, SHE'D BEST TAKE CARE NOT TO GET CAUGHT IN HER OWN TRAP!
IMPORTANT NOTICE - DISCLAIMER
All characters are 18 years old or older.
This is an entirely fictional work based on
cartoon characters for adult entertainment.
It shows no real people or events.
The characters are shown participating in
CONSENSUAL role-play for their own
personal satisfaction, simulating activities
which involve sexual dominance and
submission. No actual toons were harmed
in the making of this comic.
PREVIOUSLY ON CONFISCATED TWINS:
In a country that had legalized the trading of sex slaves to settle debts, Roy Murphy was living the life. Geeky and unattractive, he was nevertheless the master of a pair of sexual servants – the gorgeous, blonde twins and his next door neighbors, Sara and Raquel Bauer. Acquired illegally through power and influence, the women were gifts from his father, Colonel Dan Murphy, who is head of the government unit tasked with the confiscation of young women from families unable to pay their debts. The twins mother, Mrs. Bauer, could only look on helplessly as Roy and his family used and abused her daughters in plain sight.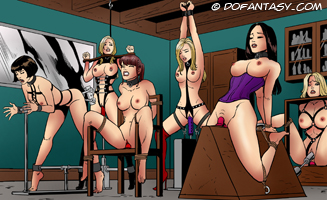 Within a few weeks Mrs. Bauer suffered a similar fate when her freedom and her home were acquired by the O'Reilly's, making both mother and daughters slaves to neighboring households. Roy's series of misfortunes began with the arrival of Amanda O'Reilly, a femme fatale who gets what she wants on her own terms. Through her machinations Roy lost ownership of the twins to Amanda, and was reduced to sneaking into her home to steal short but precious moments with the Bauer women. Meanwhile, his sister Clara had befriended Amanda to help his poor brother plan his incursions. Aware of the siblings' connivance, Amanda successfully neutralizes the two by having Roy unwittingly have sex with Clara and capturing it all on video, threatening its release if they ever cross her. On top of all this, Amanda has seduced their father Dan, and is now on the verge of destroying their family.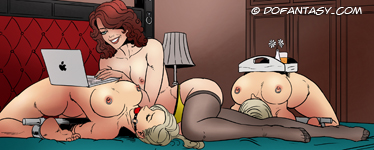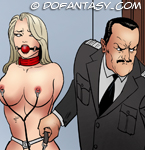 _________________________________

IN CONFISCATED TWINS 6:

The former Amanda O'Reilly, now the recently remarried Amanda Murphy, is on top of the world. With her main rivals Roy and Clara Murphy now her unwilling pawns, she has little to fear. Even her greatest adversaries, the Bauers, have now been turned into nothing more than mindless and helpless sex slaves for Amanda to use however she desires. And her very own husband is the powerful Colonel Dan Murphy who wields great influence in the Federal Confiscation Agency (FCA).

However, while old enemies have become neutralized, new ones appear to take their place... and these ones aren't just dumb kids or snobby and pampered women. Amanda Murphy struggles to keep her charges in line. Where once Roy and Clara's stupidity was her advantage, now that she's their ostensible mother, their horny idiocy now has Amanda's hands full trying to keep them in line... and away from the eyes of her husband and their father, Colonel Dan Murphy...

Her entire, intricate web of control may come undone in a matter of seconds!

As she struggles to maintain control, her "son" Roy Murphy, commits yet another act of stupidity when he loses the Bauer twins, Sara and Raquel! Things just keep going wrong for Roy Murphy, and he struggles to get the girls back before his "mother" Amanda finds out! If she finds out he's lost the twins, she'll have both his heads!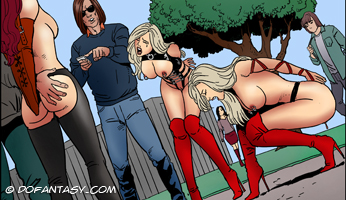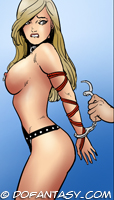 Even worse, dear sister Clara has got her hands on a potent aphrodisiac that drives her mad with lust. Amanda's frayed nerves struggle to keep the horny whore in line before she humps everything in sight in a desperate act to cum!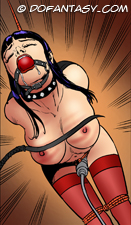 Her husband, Colonel Dan Murphy, has his own hands full with Mrs. Bauer, the stunning MILF mother of the twins. When the MILF's old flame, Mr. Curry, fell smitten for her enslaved charms, he threatened to break down everything Colonel Murphy had done to build up his family's power and influence. In the interests of maintaining everything he's worked for, he tries to spoil and ruin Mrs. Bauer... and forces Mr. Curry to watch!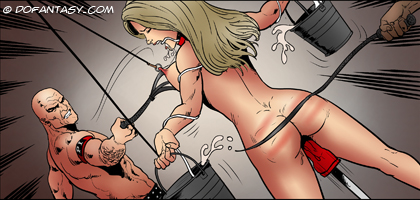 Both husband and wife are up to their necks in trouble as their children and slaves make a mess of everything!
But that's not even the end of their troubles... there may be someone else who's entered the game, though no one knows it yet but him...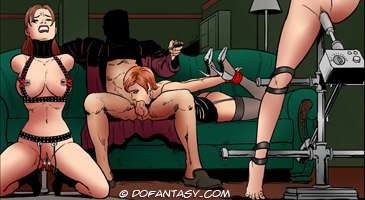 _______________________________
THINGS KEEP HEATING UP IN THIS LATEST ISSUE OF "CONFISCATED TWINS" FROM THE LEGENDARY FERNANDO! INTRIGUE AND DECEPTION INTERMINGLE WITH SEXUAL HUMILIATION AS THE BAUERS AND THE MURPHYS VIE FOR FREEDOM AND CONTROL! WHO WILL WIN AND WHO WILL LOSE IN THIS RISKY GAME OF POWER AND INFLUENCE? IF YOU'RE A FAN OF FERNANDO AND CONFISCATED TWINS, YOU CAN'T MISS THIS CHAPTER! THERE'S TOO MUCH AT STAKE!
BUY IT NOW, ONLY AT DOFANTASY.COM!
YOU DON'T WANT TO MISS THIS ISSUE. IT'S HOT, HOT, HOT!!!!
PREVIOUS CHAPTERS:
**** BUY THE SEVEN COMICS AND GET 15% DISCOUNT! ****
VISIT FERNANDO SITE FOR A COMPLETE LIST OF FERNANDO COMICS AND OFFERS
[ HOME ]