Use our On-Line 100% Secure EncryptedShopping Cart Ordering System. Simply browse
our site and Click the ADD TO SHOPPING CART buttons to place items in your Shopping Cart
[ HOME ] [ COMICS ] [ MOVIES ] [ NOVELS ] [ CD-ROM ] [ Order info ] [ Help ] [ ARTIST SITES ] [ SEARCH ]
[ Disclaimer ] [ CATALOGUE ] [ Copyright ]
FANSADOX COLLECTION 454
DARK VENGEANCE IV - FERNANDO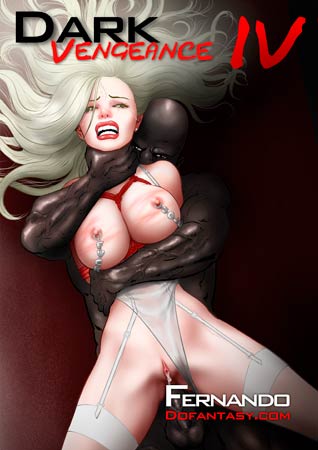 NEW IN PDF ELECTRONIC VERSION!
Adult Comic Album by FERNANDO.
HIGH RESOLUTION PDF deluxe edition
53 full color comic pages!!!

-COMPLETE, UNABRIDGED VERSION-

A BLAST FROM THE PAST BRINGS THE BLACK BOYS BACK TO BANG BLONDE BITCHES IN THIS BALLBUSTER OF A BLOCKBUSTER!

TYRONE'S BEGINNING IS FAR WORSE THAN YOU COULD EVER IMAGINE IN THIS AMAZING, ORIGIN STORY TO FERNANDO'S LEGENDARY "DARK VENGEANCE" SERIES!

OLD FRIENDS COME OUT TO PLAY, AND THINGS WILL GET REAL WHEN TYRONE AND THE GANG HAVE FULL CONTROL OVER HOLLY AND BROOKE!

IMPORTANT NOTICE - DISCLAIMER
All characters are 18 years old or older.
This is an entirely fictional work based on
cartoon characters for adult entertainment.
It shows no real people or events.
The characters are shown participating in
CONSENSUAL role-play for their own
personal satisfaction, simulating activities
which involve sexual dominance and
submission. No actual toons were harmed
in the making of this comic.

THE STORY SO FAR...

Holly Royce and Brooke Miller find themselves caught in a never-ending nightmare of unrest and deep humiliation! Best friends from college, they decided to spend their spring break on a private island owned by Holly's father, State Prosecutor Duncan Royce. It was the worst mistake of their young lives.

A trio of ex-convicts invaded the island, thirsting for vengeance against Holly's dad, the man responsible for their 15 year prison sentence. The plan had been a simple murder and robbery. Well, you know what they say... the best laid plans of thugs and bitches often go awry... A murderous mayhem of chaos and pussy pounding besets the island as Tyrone brings all his friends for a private getaway to hell's island! Beautiful, female bodies are broken, but the torment to the spirit is far, far worse. A never ending rollercoaster of pain and humiliation besets the poor family, and just when things couldn't get any worse… they do…

Once things are all set, Tyrone's got full control over his little playthings and their unwilling witness. But the story isn't over yet. Now that Tyrone doesn't have to worry about Johnny Law, he can kick this kink into OVERDRIVE!




IN THIS COMIC...

In the dark of night, a new shipment brings in some fresh inmates toward their new home: the prison block! But this is no ordinary prison. Run by the corrupt Archibald Bishop, this place is hardly a prison but instead a slaver's paradise where the warden pimps prostitutes to his captive audience. And wouldn't you know it, Tyrone and the gang are back in business, and Archibald Bishop is their first customer. He'll be pleased to see pretty Holly and Brooke, well trained and well heeled whores ready and eager to serve under pain of PAIN!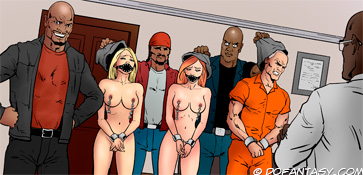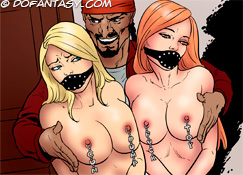 But Tyrone, Spike, and Dozer aren't here just to watch the ladies get banged in all their holes and cry like the little girls they are, though that's a nice bonus all the same. No, they're here to meet an old friend and remind him of days long past, when the fun truly began, in another life, in another time.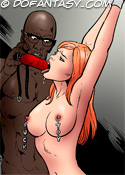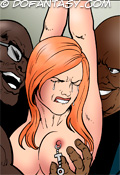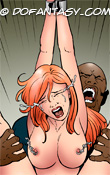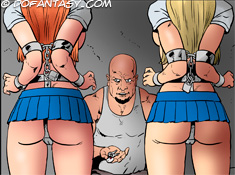 In the seedy underbelly of decadent Hollywood, another set of luscious ladies will meet their fate, whether they want to or not! "Invited" to the party by a waning movie star, the crimes that sent these three away will be committed before your very eyes in their complete and unmitigated depravity!

Sixteen years ago, the crimes that Tyrone, Spike, and Dozer commit are truly heinous! It sent them away for this long, after all.

Pretty CHASTITY MILLS will learn the hard way that her backwards views on black men are not welcome in this world. She will be humiliated, tormented, and forced to do unspeakable, vile things in order to survive. After all, her sister, Modesty Mills, is depending on her… even if Modesty doesn't know the real deal. Chastity Mills is the gateway drug to Tyrone's horrifying hellscape. A new adventure is just beginning in this amazing issue of FERNANDO'S DARK VENGEANCE 4!!!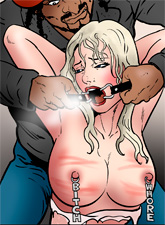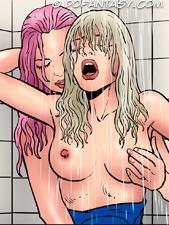 _______________________________
FERNANDO COOKS UP ANOTHER THRILLING BEGINNING IN THE DARK VENGEANCE SERIES, AND THE WAIT WAS DEFINITELY WORTH IT! THIS ACTION PACKED ISSUE IS FILLED WITH PERVERSION AND INSANITY, AND YOU WON'T EVEN HAVE A MOMENT TO CATCH YOUR BREATH! CHASTITY MILLS CERTAINLY WON'T WHEN HER PROUD LITTLE MOUTH IS STUFFED WITH THE BIGGEST BLACK COCKS AROUND! THE RIDE ISN'T OVER YET IN DARK VENGEANCE 4, BROUGHT TO YOU HERE EXCLUSIVELY AT DOFANTASY.COM!
YOU WON'T WANT TO MISS FERNANDO'S LONG AWAITED COMIC! IT'S HOT, HOT, HOT!!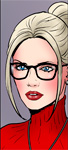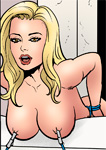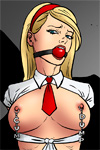 VISIT
FERNANDO SITE
FOR A COMPLETE LIST OF FERNANDO COMICS AND OFFERS
[ HOME ]