THINGS GET WET AND WILD AT THE DOUGLAS MANSION WHEN THE GROUNDSKEEPER CATCHES THE GOLD DIGGING WIDOW SECRETLY SELLING OFF THE ESTATE!

IT'S AMAZING WHAT A LITTLE KNOWLEDGE WILL BUY. CHRISTINA DOUGLAS' BAD BEHAVIOR WILL BE PUNISHED THROUGH BRUTAL, BONDAGE SLAVERY!


IMPORTANT NOTICE - DISCLAIMER
All characters are 18 years old or older.
This is an entirely fictional work based on
cartoon characters for adult entertainment.
It shows no real people or events.
The characters are shown participating in
CONSENSUAL role-play for their own
personal satisfaction, simulating activities
which involve sexual dominance and
submission. No actual toons were harmed
in the making of this comic.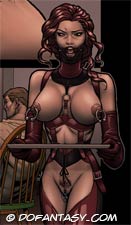 Christina Douglas is one of the most prominent and respected members of the upper crust society. The recently widowed wife to the estimable Mr. Douglas, Christina Douglas lives in the lap of luxury, praised and feted by all of her friends and socialites. Her garden especially is the most spectacular, and everyone praises her for her good taste and good maintenance of the grounds. Everyone… that is, except for the guys actually doing the dirty work: John Gardener and his son Jimmy, long serving groundskeepers to the Douglas estate.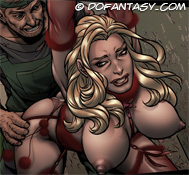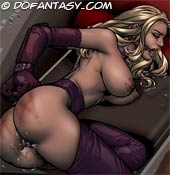 The Gardeners work their hands to the bone, but they get no respect. They're not even allowed in the house. Even worse, in order to get all of their tasks done, Jimmy has to work overtime, which makes him late for his real job, his paying job, which gets him in trouble as well. Soon, the Gardeners can't take it anymore, but lucky for them, there's a secret the catty Christina is hiding: she wants more money, and the disbursements from the living trust aren't enough. High priced paintings and furniture go missing, but John Gardener isn't blind to the facts...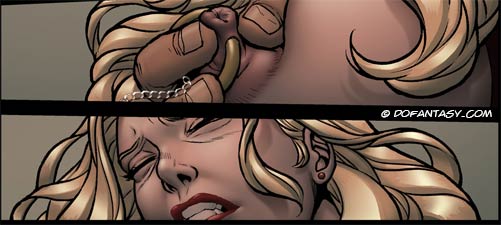 Soon Christina finds herself in a world of trouble. She'd better play along and play nicely to John Gardener's demands or else the committee will find out what a naughty girl she's been. But Christina's luscious, tight body isn't enough… she has a pair of shapely daughters as well… Maybe… just maybe… they'll be thrown in as part of the deal…




KITTY HAND IS A MASTER OF HIGH INTRIGUE AND HIGH SOCIETY GONE ROTTEN IN THIS THRILLING NEW ADVENTURE BROUGHT TO YOU IN EROTIC, COMIC FORM! THESE EXQUISITELY DETAILED AND LOVINGLY ILLUSTRATED PAGES ARE JUST BURSTING WITH SHAPELY GIRLS WITH TIGHT BODIES TRAPPED IN EVEN TIGHTER LINGERIE! IT'S SHOCKING WHAT HAPPENS BEHIND CLOSED DOORS IN EVEN THE BEST BRED, UPPER CRUST HOUSEHOLD! YOU DON'T WANT TO MISS THIS INCREDIBLE BEGINNING, BROUGHT TO YOU HERE EXCLUSIVELY AT DOFANTASY.COM!







THIS SMOULDERINGLY SEXY COMIC IS HOT, HOT, HOT! DON'T LET THIS PASS YOU BY!