Use our On-Line 100% Secure Encrypted Shopping Cart Ordering System. Simply browse
our site and Click the ADD TO SHOPPING CART buttons to place items in your Shopping Cart
[ HOME ] [ COMICS ] [ MOVIES ] [ NOVELS ] [ CD-ROM ] [ Order info ] [ Help ] [ ARTIST SITES ] [ SEARCH ]
[ Disclaimer ] [ CATALOGUE ] [ Copyright ]
FANSADOX COLLECTION 594
THE PROTO part 4 - FERRES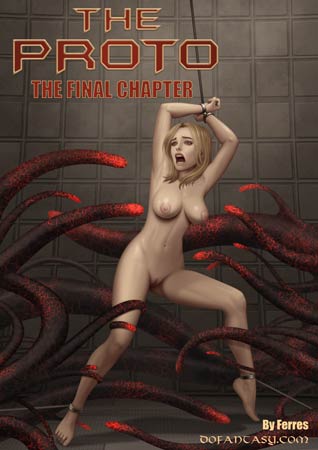 NEW IN PDF ELECTRONIC VERSION!
Adult Comic Album by FERRES.
HIGH RESOLUTION PDF deluxe edition
64 full color comic pages!
-COMPLETE, UNABRIDGED VERSION-

THE FINAL CHAPTER OF THE PROTO SERIES CONCLUDES IN THIS INCREDIBLE, INEVITABLE, INEFFABLE, AND IMPOSSIBLE FINALE OF EPIC PROPORTIONS!

WHAT WILL HAPPEN TO ROTHE KARL, YHUUN, AND XAN? WILL THE XENOSPECTERS TEAR THIS TASTY TRIO APART, OR WILL THEY BEAR WITNESS TO SOMETHING EVEN WORSE?!



IMPORTANT NOTICE - DISCLAIMER
All characters are 18 years old or older.
This is an entirely fictional work based on
cartoon characters for adult entertainment.
It shows no real people or events.
The characters are shown participating in
CONSENSUAL role-play for their own
personal satisfaction, simulating activities
which involve sexual dominance and
submission. No actual toons were harmed
in the making of this comic.




The Story So Far…

Captain Rothe Karl is one of the Proto, or Proto-Humans… those who were never genetically modified to live and serve the long-dead, galactic empire. Little better than a pirate or scavenger in these parts, he and his café au lait, female crewmate Xan and their surprise companion, blonde Yeetran Commander Lhuun, struggle for survival in the cold vacuum of space against larger, more dangerous, and better armed forces. The Yeetrians, a race of genetically modified "Amazons" fierce in battle and unnaturally beautiful, often kill Protos on sight, and Rothe Karl is no exception.

But a far more dangerous enemy than the Yeetran "amazons" has made itself known and completely destroyed the Yeetran fleet and turned the crew into mindless shells of their former selves. Now controlled from within by the strange, shadowy, alien monsters known only as "Xenospecters", Rothe Karl, Xan, and Lhuun find themselves at the beating heart of darkness… the infested hull of the Zola!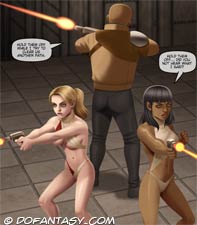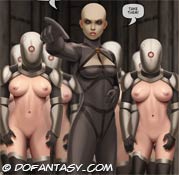 In This Comic…

Hopelessly outgunned and outmatched, Rothe Karl, Xan, and Lhuun find themselves prisoners of the enslaved Yeetran/Xenospecter soldiers. As unmodified humans, Karl and Xan had no chance against the gorgeous, Amazonian Yeetrans under the best of times. What chance do they have against the Xenospecter nightmare, wearing the shell of the former Yeetran, female supersoldiers… themselves now nothing more than mindless slaves of the Xenospecters?! This ragtag trio is under the Yeetran/Xenospecter's complete control and can do anything they want with their newest playthings!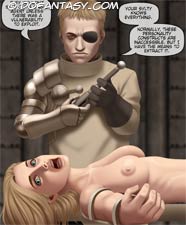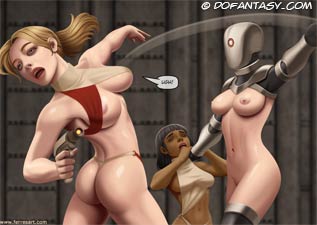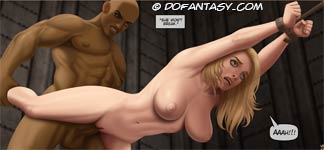 Karl and Xan are little more than light entertainment for the Xenospecter possessed Yeetran slave soldiers… a small taste of unmodified, Proto "virility" that remains. But Commander Lhuun is something different… some secret remains locked within her brain. Doctor Hess, working alongside the Xenospecters, wants to know that secret… the final secret of the Yeetran empire… but it is not something his machines can extract. Doctor Hess must use baser means to remove that information from luscious Lhuun's lovely, blonde head!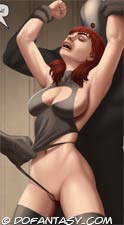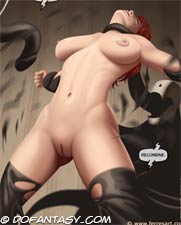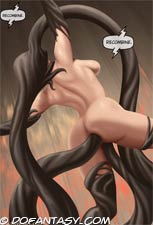 The Xenospecters need the hypergates to come over into our universe… and Lhuun may be the key to stopping the destruction of our reality. Can she hold out against the violent Doctor Hess, or will the Xenospecters consume all humanity and reality itself?!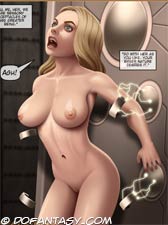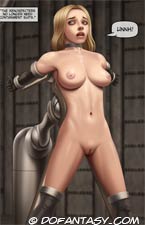 THIS UNIMAGINABLY FANTASTIC, SPACE OPERA ADVENTURE REACHES ITS DRAMATIC FINALE AND CONCLUSION IN ONLY THE MOST VIOLENT, MOST MALEVOLENT, AND MOST HORRIFYING WAY IMAGINABLE! FRAGILE, HUMAN BODIES ARE NO MATCH FOR THESE MALICIOUS, NIGHTMARISH, MURDEROUS MONSTERS! LHUUN MAY BE THE UNIVERSE'S ONLY HOPE FOR SALVATION ABOARD THE FAILING, INFESTED WRECK OF THE ZOLA! WHAT WILL HAPPEN TO ROTHE KARL, XAN, AND LHUUN? CAN THEY STOP THIS THREAT TO REALITY OR ARE THEY DOOMED TO SPEND THEIR LAST LIVES IN QUIVERING, PAINFUL, SHRIEKING, AND SCREAMING PAIN AND ECSTASY?

YOU CAN ONLY FIND OUT BY BUYING THIS COMIC, BROUGHT TO YOU EXCLUSIVELY BY DOFANTASY.COM!!!!