Use our On-Line 100% Secure Encrypted Shopping Cart Ordering System. Simply browse
our site and Click the ADD TO SHOPPING CART buttons to place items in your Shopping Cart
[ HOME ] [ COMICS ] [ MOVIES ] [ NOVELS ] [ CD-ROM ] [ Order info ] [ Help ] [ ARTIST SITES ] [ SEARCH ]
[ Disclaimer ] [ CATALOGUE ] [ Copyright ]
FANSADOX COLLECTION 597
THE HEADMISTRESS - ARCTOSS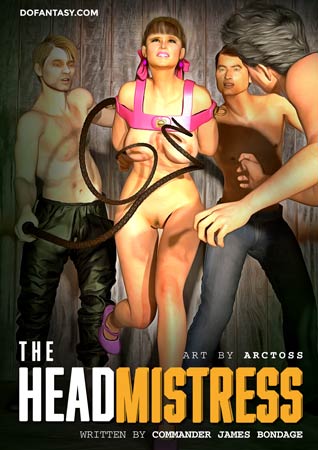 NEW IN PDF ELECTRONIC VERSION!
Adult Comic Album by ARCTOSS. Written by Commander James Bondage.
HIGH RESOLUTION PDF deluxe edition
43 full color comic pages!
-COMPLETE, UNABRIDGED VERSION-
HOT HEADMISTRESS CAROLINE MARTIN GETS IN MORE TROUBLE THAN SHE BARGAINED FOR WHEN SHE BOSSES CUSTODIAN GEORGE ARNOLD AROUND!

GEORGE ARNOLD WAS JUST HAVING A LITTLE FUN IN THE HEADMISTRESS' OFFICE DURING SUMMER VACATION. WHEN SHE CATCHES HIM RUBBING ONE OUT, SHE THREATENS TO CALL THE COPS! BIG MISTAKE!

IMPORTANT NOTICE - DISCLAIMER
All characters are 18 years old or older. This is an entirely fictional work based on cartoon characters for adult entertainment. It shows no real people or events.
The characters are shown participating in CONSENSUAL role-play for their own personal satisfaction, simulating activities which involve sexual dominance and submission. No actual toons were harmed in the making of this comic.

At Morgan Prep, a private school for the elite, George Arnold is just a tired, old man who is… enjoying the silence of the school during summer vacation. All by himself, George decides to indulge in his favorite activity: some hardcore bondage viewing at his favorite website: real slaves, real pain! And who better to humiliate than that stuck up headmistress, Caroline Martin, by viewing this hot, BDSM action on her own computer!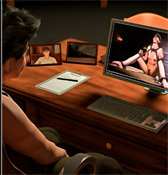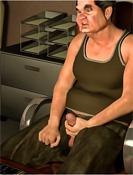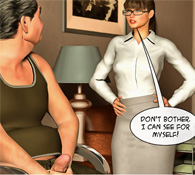 Unfortunately for George Arnold, the school isn't as empty as it initially appeared, and Caroline Martin catches him in the act! George hastily tries to explain himself, but Caroline is having none of it! She'll see his fat ass fired on the spot, and see him thrown to the curb! Desperate not to lose his job, George lashes out and knocks the schoolmistress cow out cold!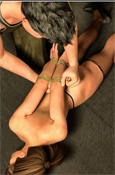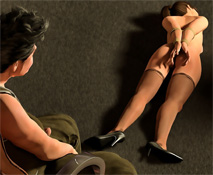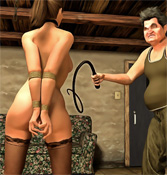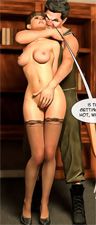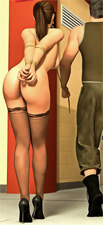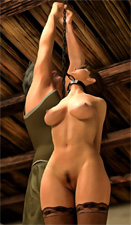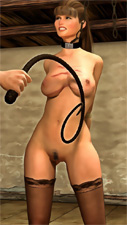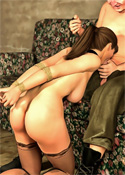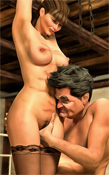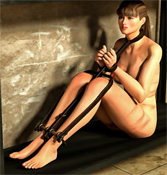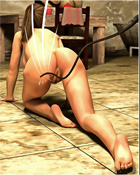 Ahh SHIT! What to do now? He can't let her wake up… or she'll just go call the cops! Unless she disappears… George gets a kinky idea on how to keep the hot, headmistress Caroline silent… Maybe those guys at "real slaves, real pain" will want a new "actress" for their collection… but not before George has a little fun with her first! After all, nobody's in school during summer vacation… and nobody can hear this hot school teacher's screams…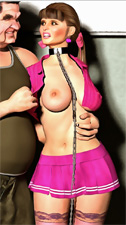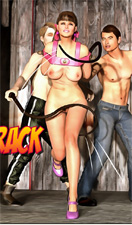 ARCTOSS RETURNS WITH ANOTHER AMAZING ADVENTURE SET IN A DESERTED SCHOOL AND A CLASH BETWEEN THE OLD CUSTODIAN AND THE HOT, STUCK UP HEADMISTRESS! GEORGE ARNOLD ALWAYS FANTASIZED ABOUT HAVING A HOT, YOUNG THING TO PLAY WITH AND TRAIN… AND WHEN HE'S ALMOST RATTED OUT BY THIS SNOTTY SLUT, HIS WISH WILL FINALLY COME TRUE! POOR CAROLINE WILL BE PUT THROUGH HER PACES AND TRAINED TO GO FROM SNOBBY SCHOOL HEADMISTRESS TO PECKERSNOT SUCKING SLUT SLAVE!

BUT WHAT WILL HAPPEN WHEN GEORGE CONTACTS THE WEBSITE OWNERS? WILL CAROLINE ESCAPE FROM HER EVIL FATE? WILL SHE BE FREED? OR IS SHE DOOMED TO BE A PAIN SLUT TO THESE MYSTERIOUS MEN HIDING IN THE DARK BOWELS OF THE WORLD WIDE WEB? YOU CAN ONLY FIND OUT BY PURCHASING THIS COMIC BROUGHT TO YOU HERE EXCLUSIVELY AT DOFANTASY.COM!!!!