Use our On-Line 100% Secure Encrypted Shopping Cart Ordering System. Simply browse
our site and Click the ADD TO SHOPPING CART buttons to place items in your Shopping Cart
[ HOME ] [ COMICS ] [ MOVIES ] [ NOVELS ] [ CD-ROM ] [ Order info ] [ Help ] [ ARTIST SITES ] [ SEARCH ]
[ Disclaimer ] [ CATALOGUE ] [ Copyright ]
FANSADOX COLLECTION 612
THE HOTTIES NEXT DOOR - Part 12 - PREDONDO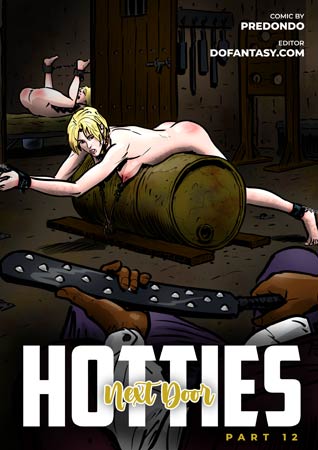 NEW IN PDF ELECTRONIC VERSION!
Adult Comic Album by PREDONDO.
HIGH RESOLUTION PDF deluxe edition
40 full color comic pages!
-COMPLETE, UNABRIDGED VERSION-

IN THE BOWELS OF THE DUNGEON, LUCY'S TORMENT NEVER CEASES, GROWING MORE SINISTER WITH EACH PASSING MOMENT AT THE CRUEL HANDS OF THE PORTLY HORN DOG, LESTER.
MEANWHILE, THE MYSTERY BEHIND THE MISSING WOMEN REMAINS UNSOLVED. EXPLORE THIS THRILLING TALE OF MALEVOLENCE AND UNSPEAKABLE SUSPENSE THAT WILL LEAVE YOU TWITCHING, DESPERATE FOR MORE.


IMPORTANT NOTICE - DISCLAIMER
All characters are 18 years old or older. This is an entirely fictional work based on cartoon characters for adult entertainment. It shows no real people or events. The characters are shown participating in CONSENSUAL role-play for their own personal satisfaction, simulating activities which involve sexual dominance and submission. No actual toons were harmed in the making of this comic.




COMIC OF THE MONTH IN NOVEMBER 2023 AT BDSMartwork.com
click here for more info

IN THIS COMIC...

Time has passed, but Lucy's defiance remains unbroken, a flicker of resilience in the face of relentless humiliation and taunting from Chief Kallahan and the malevolent Lester. "Fine by me, chief! I just gotta take a look at this bitch, and I get a new head of steam on my balls!" Lester groans as he pumps his ramrod cock above Lucy's prone body.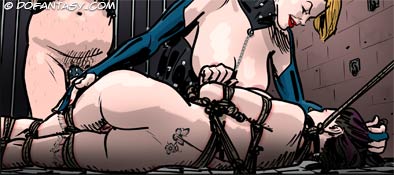 But a sinister twist emerges when they discover her secret pleasure in their cruel punishment.
"Take that, bitch! Right up your fucking asshole!" shouts Lester as he shoves his enormous fist into Lucy's rectum.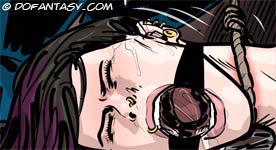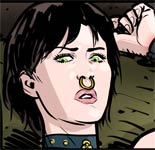 Meanwhile, the big-titted ebony, agent Laverne, mindlessly rides inspector Ronson's BIG BLACK COCK, utterly oblivious to the fact that their secret rendezvous has piqued the interest of a saturnine man known as the preacher.
The disappeared quartet is spotted, completely splayed, and ringed in Judge Dikson's mansion.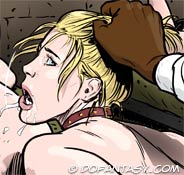 Their open beavers receive a good licking from Gloria, who fancies herself a real bitch. This liaison is soon stopped by Hector, who brutally lashes out at Gloria for disobeying orders. They say pleasure comes at a price, and for Gloria, the consequences were dire.
In some other room, Hector, the servant, and the sex-crazed Gloria play depraved games that leave her covered in welts and bruises and, of course, his grit.
Their playtime is interrupted by Mrs. Dikson, who orders Hector to put his prick away and hose down the wanton slave.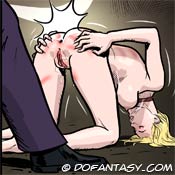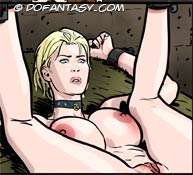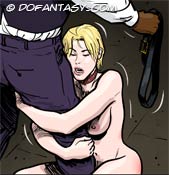 The family of hotties is forced to entertain the old ghostly couple. "Fuck! It stinks! Doesn't he ever wash that thing?" Vera laments bitterly. She reluctantly wraps her soft lips around the judge's hard length.
The air is filled with orgiastic energy as the sex sluts are made to do the obscenest things to keep their masters aroused, or they get a broad bottom.
This would be a long night for the slaves, and it had only just begun.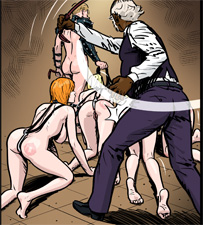 IN THIS NEW PROVOCATIVE COMIC, THE STAKES ARE HIGHER THAN EVER AS AGENT LAVERNE OFFERS TO SUCK THE WELL-HUNG INSPECTOR RONSON OFF AT A PRICE. WHAT WOULD THAT PRICE BE? WHAT WOULD BECOME OF THE ABDUCTED WOMEN? MOST IMPORTANTLY, WHAT WOULD THE OLD JUDGE'S ERRATIC ORGASM COST HIM?
BRACE YOURSELF FOR AN INTOXICATING BLEND OF HEAT AND SUSPENSE. ARE YOU READY FOR THE THRILL? SECURE YOUR COPY NOW AND PLUNGE INTO A CAPTIVATING STORY THAT WILL LEAVE YOU HOOKED UNTIL THE VERY END. BROUGHT TO YOU BY THE IMAGINATIVE MIND OF PREDONDO.
EXCLUSIVELY AVAILABLE AT DOFANTASY.COM!!!!!
VISIT PREDONDO'S SITE
FOR A COMPLETE LIST OF PREDONDO COMICS AND OFFERS