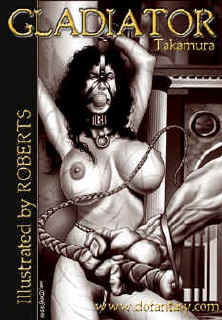 New in English!!!
by TAKAMURA
de luxe edition.

Illustrated by ROBERTS


This is the first book translated into English of the long-acclaimed DOFANTASY Collection of Spanish SM-GORE Illustrated Novels. A completely different concept in SM literature!

Excellent historical settings...
Credible, down to Earth characters...
And a situation that is not fiction so much as genuine historical drama...

In ENGLISH. Available electronically in PDF format. See bottom of page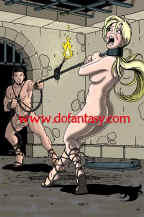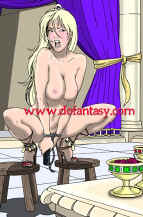 THE BOOK:
The Roman empire was built upon slave labor and many of its festivities and daily entertainments were based on suffering, sexual abuse and humiliation. Slavegirls were a common but expensive commodity to be bought and sold, and used. The cruelty of Masters and Mistresses knew no bounds. By law, young slavegirls were theirs to enjoy in the most perverted and sickest of ways.
Flavia is an extremely beautiful, highly educated young Roman Patrician. She has lost her father and has no relatives apart from her brother and his wife Aphrodite.
Glaucus is just the contrary... he's the most revolting human being ever! He's old, filthy, raw, ignorant, and he's a sadistic criminal. The worse sort. The School of Gladiators has given him the power and money to satisfy his every whim, and his whims include an unbridled lust for blood and young girls...
These two antagonistic characters meet on the first page of the book ... just after the Goddess Fortune appeared to Glaucus in a dream... "Why is it", she asked, "that Gladiators are always men? Why not women?"
FROM THE BOOK:
GUESTS OF HONOUR
Glaucus...
My name is Glaucus. Glaucus of Patmos. My mother was a Nubian slave and I am a half-caste. I'm half-Roman, but that does not count for much in Rome. You are Roman or you are not. And I am not.
I have had a long and hard life. I am in my sixtieth year and every year is better than the year before. I have money, time and slaves of my own now, men and women.
But my life was hard until I bought my freedom by fighting in the arenas and set up the School of Gladiators here in Guyoni.
It's a life of luxury for me now! The patricians, even the patricians in the metropolis, queue up for a seat at my table. Marcus Toninus, the centurion who commands the Praetorian Guard in Alexia, lives in the lap of luxury thanks to my little "presents" of money or women. The authorities are on my side!
I owe all this to the Goddess Fortune, who led my footsteps into this unpromising-looking, arid desert. It was here that I discovered the Guyi, a tribe of warriors who have hardly discovered agriculture.. They grow big and strong in adolescence, but they're as agile as chimpanzees, and I could see that they would make excellent gladiators.
They're a bit stupid, but that's no real problem. You don't need to be a mathematical genius to be a good killer. The first victories of my Black Gladiators – that's what they call them in Rome, although they're not really black – were spectacular and their fame soon spread.
My men were soon in Rome, triumphing in the Coliseum itself.
And it was then, when the School of Gladiators was at the height of its fame, that the Goddess Fortune appeared to me in a dream.
"Why is it", she asked, "that Gladiators are always men? Why not women?"
Flavia...
I still don't really understand all this nightmare.
It started when my father died. After the funeral rites and the period of mourning, I followed his last orders and went to live with my brother Claudius and his wife Aphrodite.
The vile bitch! She hated me from the beginning, I could see. But I never imagined how low and evil she could be.
Soon after my arrival, Aphrodite began preparations for the fateful trip to Alexia in the land of the Guyi. Vacations, she said!
I did not want to go, but how could I refuse? My brother was now my legal guardian. I soon regretted my decision. It was unbearably hot and the journey was interminable. The atmosphere was tense. My sister-in-law was irritable and provoked me constantly. And my brother, who had not even attended father's funeral rites, never missed an opportunity to be close to me and bother me. He touched me in a way that is not fitting for a brother, my own flesh and blood!
The Gods are my witnesses! I could not have suffered a more terrible destiny!
Seven days by camel brought us finally to this miserable hovel in the middle of nowhere, a land known as Guyoni. We arrived at noon and the sun was baking down on the little huts made of a mixture of sand, clay and camel dung.
What kind of place was this for vacations?
My brother ordered the servants to set up camp on the outskirts, while the three of us and a small group of servants made our way into the village.
Then we saw Glaucus of Patmos. I shall never forget the first time I set eyes on him.
Glaucus of Patmos was the lord of all this misery. A cruel, murderous despot. "Pleased to meet you" (Lord of the Camel Dung, I added, to myself).
My stomach turned over when he took my hand and kissed it. His whole body smelled, not just his filthy breath! And I saw sheer lust, lewdness, in his eyes, in his twisted smile, his hoarse crow's voice and his false words.
"Welcome to Guyoni, home of my unworthy, humble little School of Gladiators, my dear patrician Flavia".