When we published Takamura's Pony Farm, illustrated by Thorn, we were aware at d'Ofantasy that it was special - one of those rare works that construct their own fantasy universe and make it inhabitable. Takamura provided the visual narrative and her knowledge of the British pony scene. And master artist Thorn provided the haunting illustrations that turn erotic fantasy into reality. It was the perfect combination. Pony Farm is fast becoming a modern classic, THE pony novel.
So we are especially proud to present a new novel by Takamura and Thorn: Pony Tail Farm.
Pony Tail Farm is about a boss and his secretary: "Rupert Mills sat at his desk, clicking the top of his gold ball-point pen. Annie Jones was late again…" Annie was not a specially good secretary. But she did have lovely breasts and she knew how to use them…
"She was always leaning forwards over a desk, showing most of her breasts, letting them hang down in front of the office boys, squeezing them together slightly with the tops of her arms to make them look even bigger. Sometimes she even swung slightly from side to side, and her breasts gave a little wobble that left men confused and speechless…"
"As Mills tried to write a report on the advisability of investing in the futures market (South African coffee crop) his mind turned to bamboo canes with cutting ridges across them, long plastic office rulers for slapping breasts and bottoms, chains to hold wrists and ankles, girls down on all fours with their bottoms raised…"
Annie had made a mistake. She had stolen money from the office. Mills persuaded her that there was a closed-circuit camera in the ventilation grille. No, he would not tell the police, but he did want something back: fifty blows with a cane. "The blows will be on your breasts, probably," he added. "But I will have the right to cane you on all other parts of your body too. And you'll have to strip off completely. I want to see you stark naked. I want you to show me everything…"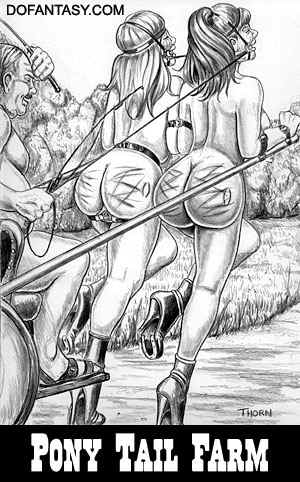 Takamura's fast-moving narrative shows us how events got out of control, how Annie ends up subjected to constant sexual abuse and public humiliation as her body is used and abused by the paying guests on a pony farm hidden in the remote countryside of rural England…
A wonderful pony novel superbly illustrated by THORN!