Use our On-Line 100% Secure EncryptedShopping Cart Ordering System. Simply browse
our site and Click the ADD TO SHOPPING CART buttons to place items in your Shopping Cart
[ HOME ] [ COMICS ] [ MOVIES ] [ NOVELS ] [ CD-ROM ] [ Order info ] [ Help ] [ ARTIST SITES ] [ SEARCH ]
[ Disclaimer ] [ CATALOGUE ] [ Copyright ]
FANSADOX COLLECTION 284
HORROR MANAGEMENT - WAYNE WINE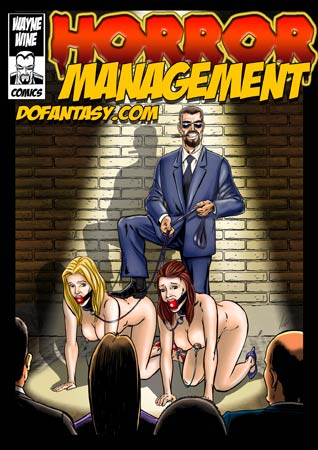 NEW IN PDF ELECTRONIC VERSION!
Adult Comic Album by WAYNE WINE.
HIGH RESOLUTION PDF deluxe edition
40 full color comic pages!!!
-COMPLETE, UNABRIDGED VERSION-
TWO SUCCESSFUL BUSINESSWOMEN BECOME THE PLAYTHINGS FOR THEIR BOSS!
A POWERFUL BOSS IS DETERMINED TO
MAKE MONEY OFF HIS FEMALE EMPLOYEES
IN ANY WAY POSSIBLE!
IMPORTANT NOTICE - DISCLAIMER
All characters are 18 years old or older.
This is an entirely fictional work based on
cartoon characters for adult entertainment.
It shows no real people or events.
The characters are shown participating in
CONSENSUAL role-play for their own
personal satisfaction, simulating activities
which involve sexual dominance and
submission. No actual toons were harmed
in the making of this comic.
The global economy plummets, and no sector has been hit harder than the real estate market.
Gloria and Belinda have been working their asses off day and night to move property in a market where everyone is selling and no one is buying. For the buxom beauties, more than their pride is at stake; if they don't make any sales soon they'll lose their jobs!
Mr. Vance looked at the two women standing before him, his eyes traveling up their firm legs to their pert tits. What knockouts! At any other time these two women could sell an apartment complex just by unbuttoning the top button of their silk blouses!
He licked his lips. But those days are gone and I've still got millions of dollars in property to move, he thought. These two bimbos are going to have to be pushed harder if I'm ever going to make a dime off them… The hard bulge in his slacks ached for release, and he approached the two nervous women. He knew exactly how to use them.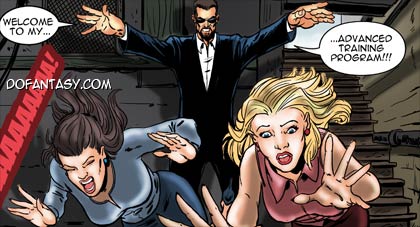 When Gloria felt the thin fabric of her skirt tear, she panicked! She'd never been handled roughly before, especially not by her own boss!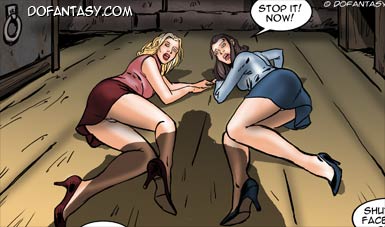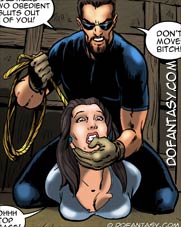 She'd had boyfriends who got worked up into a froth on dates, but she always knew how to cool them off before things got out of hand. A cold shoulder or severe look kept her boyfriends in line and under control. But this was terrifying!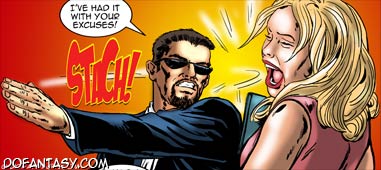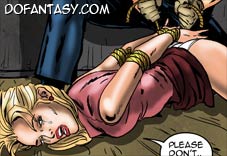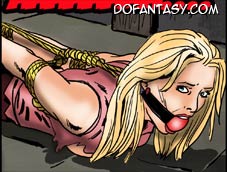 Mr. Vance was a strong man and easily ripped the shredded garment from her, leaving her trembling and nearly nude before him. Only her silky panties protected her most private parts from his eyes. Mr. Vance sneered and yanked the tiny garment down to her knees…
Belinda looked over at her coworker Gloria who was chained from the ceiling just like her. Over the years they'd developed a friendly rivalry, seeing who could sign more contracts or win business from handsome clients. The two sexy beauties had made more money for the company than any other team in years, but now they'd become pieces of property themselves!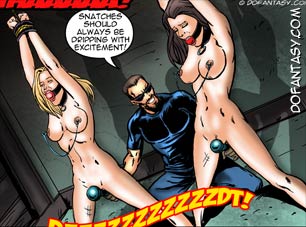 Salty tears ran down her smooth skin and dripped down her chin to splash on her heaving breasts.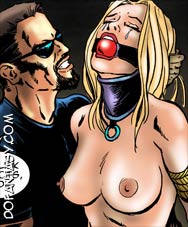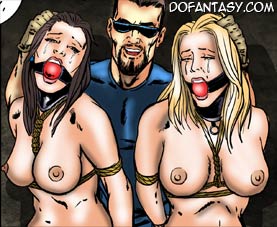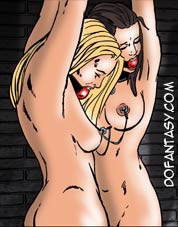 She was completely naked and exposed.
She'd never felt more helpless and humiliated than she did right now. Her boss could see everything, and it was obvious by his bestial smile that he planned to use her immediately!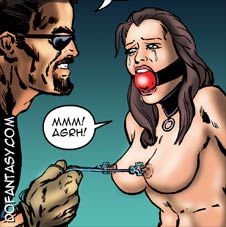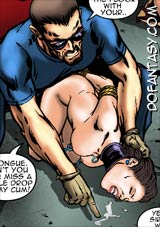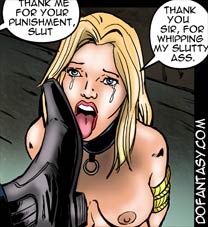 WITH AN EXCITING ARTISTIC STYLE AND FAST PACED ACTION, WAYNE WINE PRESENTS HIS HOTTEST COMIC YET! A MODERN STORY WITH ALL NEW CHARACTERS IN VIBRANT DETAIL PACK EVERY PAGE OF THIS ISSUE. YOU DON'T WANT TO MISS OUT!

_______________________________________________