Use our On-Line 100% Secure EncryptedShopping Cart Ordering System. Simply browse
our site and Click the ADD TO SHOPPING CART buttons to place items in your Shopping Cart
[ HOME ] [ COMICS ] [ MOVIES ] [ NOVELS ] [ CD-ROM ] [ Order info ] [ Help ] [ ARTIST SITES ] [ SEARCH ]
[ Disclaimer ] [ CATALOGUE ] [ Copyright ]
FANSADOX COLLECTION 221
THE BIRTHDAY GIFT 5: TEACHER'S PET - ERENISCH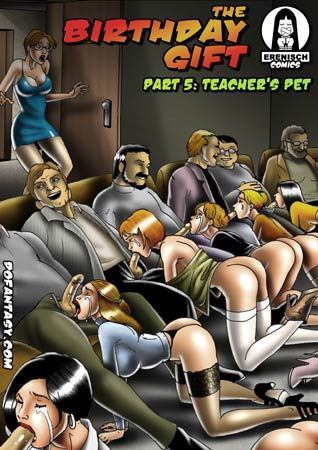 NEW IN PDF ELECTRONIC VERSION!
Adult Comic Album by ERENISCH
HIGH RESOLUTION PDF deluxe edition
56 full color comic pages by ERENISCH
-COMPLETE, UNABRIDGED VERSION-
WHEN A GIRL REACHES SLAVERY AGE,
SHE CAN BE BOUGHT, SOLD AND RENTED.
SHE BECOMES HER OWNER'S PROPERTY!
EXTREMELY HOT GIRL-NEXT-DOOR, HUMILIATION COMIC!!!
56 COLOR PAGES!!!
IMPORTANT NOTICE - DISCLAIMER
All characters are 18 years old or older.
This is an entirely fictional work based on
cartoon characters for adult entertainment.
It shows no real people or events.
The characters are shown participating in
CONSENSUAL role-play for their own personal satisfaction, simulating activities which involve sexual dominance and submission.
No actual toons were harmed in the making
of this comic.
The year is 2022... Many countries have passed the 'Compulsory Female Slavery Law' that legalizes the sexual use and trade in of nubile women over 18 years of age.

When a girl reaches slavery age, she can be bought and sold, hired and whored, and be used in every imaginable way. She becomes her owner's personal property.

A woman can buy her own freedom for a short period of time by paying a huge sum of money to the Bureau of Female Affairs. If a female fails to pay her 'freedom money', her body ends up on the market, and she becomes available for enslavement by private persons.

In order to maintain her free status a female must not break any laws during her period of immunity.
_________________
THE STORY SO FAR
The boring life of dorky high school student Peter Stevenson changes on his 18th birthday, when he gets his first slave Maggie as a gift from his parents.
Peter's small slave harem grows as his father buys him the most popular girl in the school, Sherry. The boy enjoys taming the haughty and defiant girl until she submits and agrees to perform the duties of a slave. Meanwhile, the school hires a strict new vice-principal who increases the pressure on the poor schoolgirls.
Two friends, Gwen and Tawnie become his first victims. However, Gwen is saved by her mother, and Tawnie was 'saved' by Peter before the vice principal could enslave the scared girls.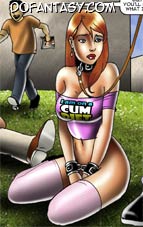 Peter has the opportunity to return the favor when he presents the 18-year old beauty to his father, as a birthday gift...
The daily life of Peter's two slaves, Sherry and Maggie, couldn't be more degrading and shameful. The young freak treats the two girls with great contempt and cruelly assigns them the most debasing duties and services.
Tawnie's plight is not much better now she is the slave of Peter's father. The old creep submits the girl to never ending humiliating training sessions. He's old enough to be her grandfather!
The nights are a hell for the girls, but the mornings are even worse…
What these sexy young slaves dread most is school. Peter and other students are proud to take their slaves to school to show them off, to rent them to their friends and to make them perform in all sorts of dirty, lesbian shows.
School has suddenly become more fun for the young male perverts and their depraved teachers, and and horror hell for the girls...
_________________
IN THIS COMIC
The plight of blonde Maggie and red-haired Sherry, now known as Cumbunny and Slutkitten, gets worse and worse now they are Peter's pets. The inventive young freak gets his kicks by making the beautiful slaves play the most depraved games... and reminding them that they should be thankful!
"You two whores should be grateful that I gave you food and shelter. And you should be extra grateful that I fuck you all the time... because in this world only the talented and experienced slaves can survive. Are you thankful that I train you intensively, my slutty slave-puppies?"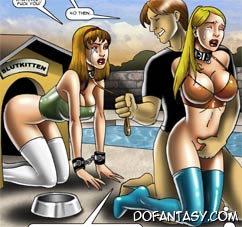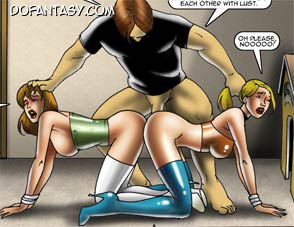 In the meantime, Peter's father keeps his 18-year old slave Tawnie in a tiny locker and feeds her a diet of cum. When she is not being used by the old bastard, the unfortunate girl is being trained by Peter's mother... "Teach her the basics... how to crawl, eat, and beg like the dog she is..."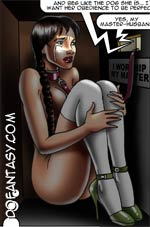 In Erenisch school, Fuckpuppet, a former secretary, lives her own hell as the slave of Mr Moore, the school vice-principal, another perverted bastard old enough to be her grandfather...
"Did you do your daily exercises Fuckpuppet? I don't want that delicious young body of yours to get saggy like a brothel whore! MMMHH...!!! Good girl... You are rubbing your body with flavored oils, aren't you? It is a good thing you are such a smart and obedient girl! Did you know we've started to send delinquent girls your age to the police academy to be used for target practice? Such a damn waste!"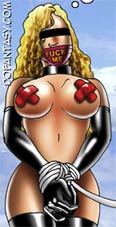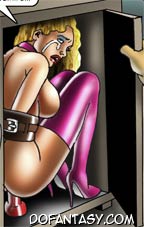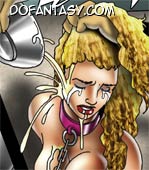 Miss Chrissy Cummings is a new young teacher in her first job. She's a hot but innocent bombshell who just can't believe what's going on all around her. One day she is surprised stealing some documents that may compromise the future of the school's Principal... She's enslaved on the spot for perpetrating felony! Needless to say, she becomes the personal slave of the repulsive Principal. The old fart has been lusting after this inaccessible young teacher for months...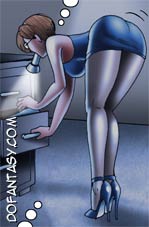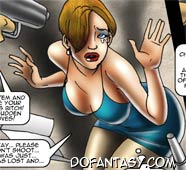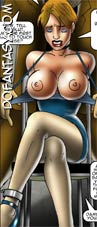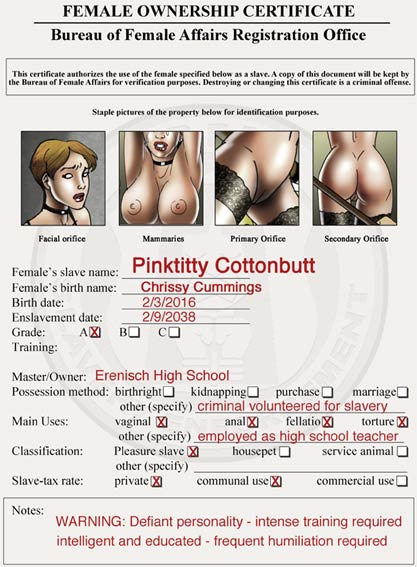 Meanwhile an ordinary day at the Erenisch High School turns into a fascinating adventure when Peter and his mates meet a gorgeous foreign exchange student. Slavery is not legal in this hot chick's country, so she's perfectly safe at the school... at least for the time being!
It doesn't take Peter long to discover that the girl is a dominatrix, and he does a deal with her. She becomes his girlfriend in return for a piece of the action with Cumbunny and Slutkitten.
Life for the beautiful slaves takes yet another U turn for the worse...
"Did you think that it would be pleasant to serve a girl for a change, little bitches? Think again, slaves... I'm a girl, and I know exactly how to hurt little sluts most..."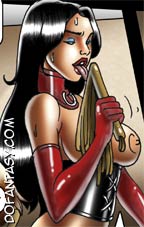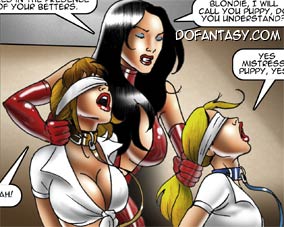 "Come on bitches... Make your master and mistress cum at the same time... Lick faster! Suck 'em like your life depends on it... which is true!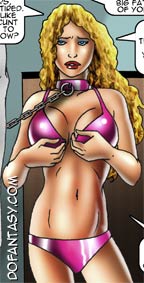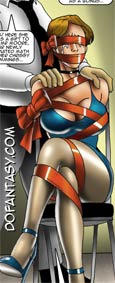 WHEN A GIRL REACHES SLAVERY AGE,
SHE CAN BE BOUGHT, SOLD AND RENTED.
SHE BECOMES HER OWNER'S PROPERTY!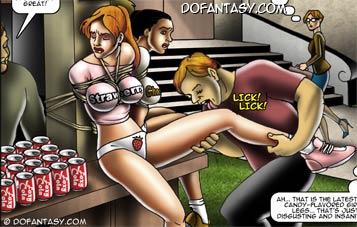 56 COLOR PAGES!!!
DON'T MISS THE 1st PART OF THIS STORY: BIRTHDAY GIFT PART 1
DON'T MISS THE 2nd PART OF THIS STORY: BIRTHDAY GIFT PART 2
DON'T MISS THE 3rd PART OF THIS STORY: BIRTHDAY GIFT PART 3 - DETENTION
DON'T MISS THE 4th PART OF THIS STORY: BIRTHDAY GIFT PART 4 - HOMEWORK


DON'T MISS THE 6th PART: BIRTHDAY GIFT PART 6 - FAMILY REUNION
DON'T MISS THE 7th PART: BIRTHDAY GIFT PART 7 - THE EXCHANGE
DON'T MISS THE 8th PART OF THIS STORY: BIRTHDAY GIFT - 8 - THE FAVORITE
DON'T MISS THE 9th PART OF THIS STORY: BIRTHDAY GIFT PART9 - VENGEANCE

**** BUY THE 9 COMICS AND GET 15% DISCOUNT! ****

VISIT
ERENISCH SITE
FOR A COMPLETE LIST OF ERENISCH COMICS AND OFFERS