Use our On-Line 100% Secure Encrypted Shopping Cart Ordering System. Simply browse
our site and Click the ADD TO SHOPPING CART buttons to place items in your Shopping Cart
[ HOME ] [ COMICS ] [ MOVIES ] [ NOVELS ] [ CD-ROM ] [ Order info ] [ Help ] [ ARTIST SITES ] [ SEARCH ]
[ CATALOGUE ] [ Disclaimer ] [ Copyright ]
FANSADOX COLLECTION 236
BIRTHDAY GIFT 6: FAMILY REUNION - ERENISCH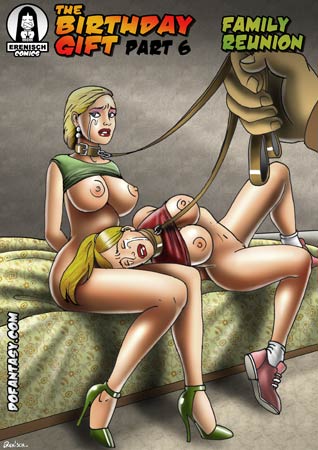 NEW IN PDF ELECTRONIC VERSION!
Adult Comic Album by ERENISCH
HIGH RESOLUTION PDF deluxe edition
53 full color comic pages by ERENISCH
-COMPLETE, UNABRIDGED VERSION-
WHEN A GIRL REACHES SLAVERY AGE,
SHE CAN BE BOUGHT, SOLD AND RENTED.
SHE BECOMES HER OWNER'S PROPERTY!
MOTHER AND DAUGHTER OWNED
BY THE SAME OLD BASTARD!!!
53 COLOR PAGES!!!
IMPORTANT NOTICE - DISCLAIMER
All characters are 18 years old or older.
This is an entirely fictional work based on
cartoon characters for adult entertainment.
It shows no real people or events.
The characters are shown participating in
CONSENSUAL role-play for their own personal satisfaction, simulating activities which involve sexual dominance and submission.
No actual toons were harmed in the making
of this comic.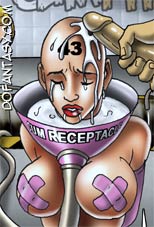 The year is 2022... Many countries have passed the 'Compulsory Female Slavery Law' that legalizes the sexual use and trade in of nubile women over 18 years of age.
When a girl reaches slavery age, she can be bought and sold, hired and whored, and be used in every imaginable way. She becomes her owner's personal property.
A woman can buy her own freedom for a short period of time by paying a huge sum of money to the Bureau of Female Affairs. If a female fails to pay her 'freedom money', her body ends up on the market, and she becomes available for enslavement by private persons.
In order to maintain her free status a female must not break any laws during her period of immunity.
_________________
THE STORY SO FAR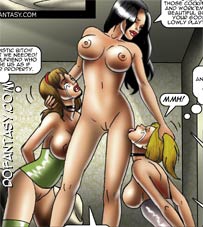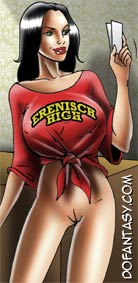 18 year old high school students Maggie and Sherry have been serving their former
classmate Peter as his personal fucktoys for a long time. Legally registered as slavecunts Cumbunny and Slutkitten, the two young beauties suffer violent punishments, abuses and humiliations at the hands of their dorky adolescent owner.
The poor girls' plight turns even worse when Peter meets Anna, a vicious and sadistic foreign exchange student. With their master's girlfriend, the hapless duo now serve two violent, demanding, harsh disciplinarians with their supple bodies...
Life is not any better at the school for girls. Many of the attractive schoolgirls and female teachers are relegated to fucktoys and sex slaves by sex-crazed male students and staff. The schoolyard and corridors are filled with screams and moans of poor girls every day.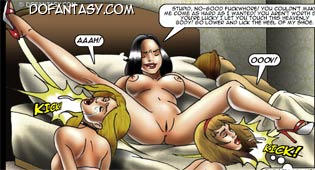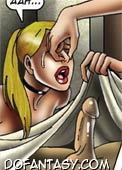 _________________
IN THIS COMIC
Life as usual means an endless, awful nightmare of abuse and humiliation for the young slavegirls...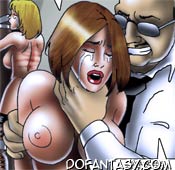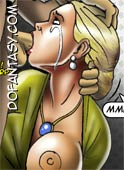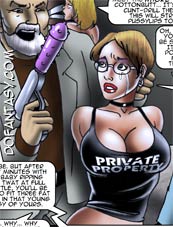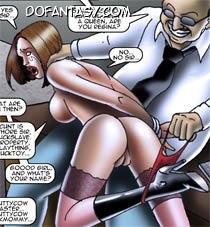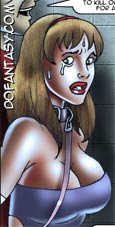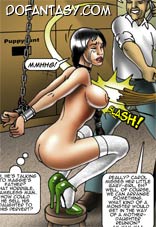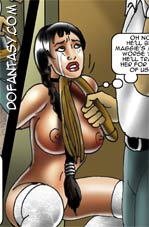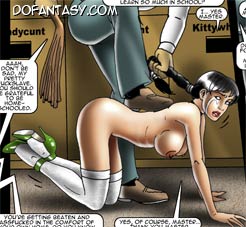 On her 19th birthday, Maggie and her girlfriends are taken to a remodeled night club by their masters. This night-out turns out to be a nightmare for the poor girls as they are lead into a house of punishment, horror and humiliation instead of a dance party.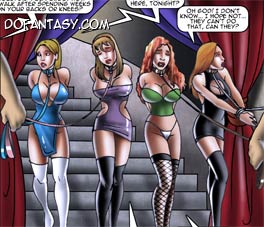 The girls find themselves surrounded by vicious action, violent gangbangs, horrible punishments and endless humiliation. Their young, supple bodies are shared by their masters as if they were cheap common whores.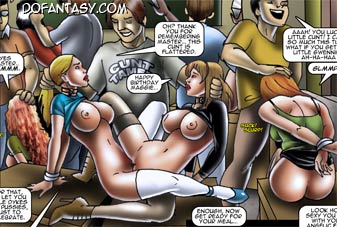 Meanwhile, Maggie's mother Carol's life also turns for the worse as her husband finally decides to cash his still attractive wife. After a short bargaining and a handshake Carol suddenly finds herself enslaved and gifted to a sadistic master as a fucktoy.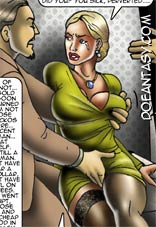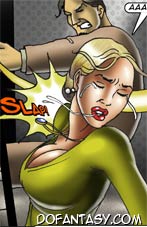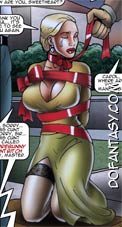 As a former classmate of Master Stevenson and her slave-wife Molly, Carol quickly realizes that she will be punished and used in the most vicious ways. But the beautiful MILF is determined to endure the worst humiliations and torments to be close to her precious daughter, Maggie...
Needless to say, her new master is more than happy to own mother and daughter as his personal slaves...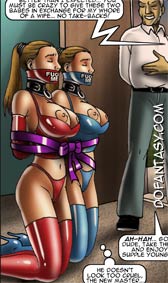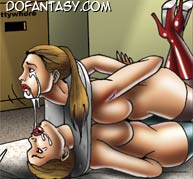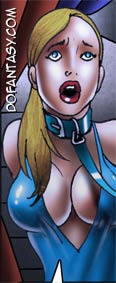 WHEN A GIRL REACHES SLAVERY AGE, SHE CAN BE BOUGHT, SOLD AND RENTED.
SHE BECOMES HER OWNER'S PROPERTY!
53 COLOR PAGES!!!
EXTREMELY HOT GIRL-NEXT-DOOR, HUMILIATION COMIC!!!
DON'T MISS THE 1st PART OF THIS STORY: BIRTHDAY GIFT PART 1
DON'T MISS THE 2nd PART OF THIS STORY: BIRTHDAY GIFT PART 2
DON'T MISS THE 3rd PART OF THIS STORY: BIRTHDAY GIFT PART 3 - DETENTION
DON'T MISS THE 4th PART OF THIS STORY: BIRTHDAY GIFT PART 4 - HOMEWORK
DON'T MISS THE 5th PART OF THIS STORY: BIRTHDAY GIFT PART 5 - TEACHER'S PET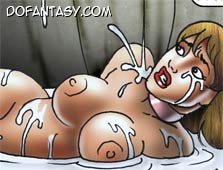 DON'T MISS THE 7th PART OF THIS STORY: BIRTHDAY GIFT PART 7 - THE EXCHANGE
DON'T MISS THE 8th PART OF THIS EXCITING STORY: BIRTHDAY GIFT - 8 - THE FAVORITE
DON'T MISS THE 9th PART OF THIS STORY: BIRTHDAY GIFT PART9 - VENGEANCE
**** BUY THE 9 COMICS AND GET 15% DISCOUNT! ****
VISIT
ERENISCH SITE
FOR A COMPLETE LIST OF ERENISCH COMICS AND OFFERS