Use our On-Line 100% Secure EncryptedShopping Cart Ordering System. Simply browse
our site and Click the ADD TO SHOPPING CART buttons to place items in your Shopping Cart
[ HOME ] [ COMICS ] [ MOVIES ] [ NOVELS ] [ CD-ROM ] [ Order info ] [ Help ] [ ARTIST SITES ] [ SEARCH ]
[ Disclaimer ] [ CATALOGUE ] [ Copyright ]
FANSADOX COLLECTION 319
THE SHADOW OF THE CITY - A SECRET ORDER - FEATHER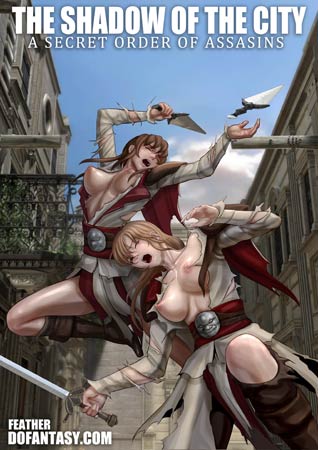 NEW IN PDF ELECTRONIC VERSION!
Adult Comic Album by FEATHER.
Dialogs by NAJ
HIGH RESOLUTION PDF deluxe edition
45 full color comic pages!!!
-COMPLETE, UNABRIDGED VERSION-
MARIA AND LINA, TWO GORGEOUS FEMALE
ASSASSINS FIND OUT THAT THEIR PREY HAS
OUTSMARTED THEM. THESE TWO GIRLS
WILL WISH THEY'D NEVER MET THE
MAN WHO OUTWITS THEM!
IN THE HEART OF CORRUPT, RENAISSANCE
ITALY, IT IS BETTER TO KEEP YOUR HEAD
DOWN. TWO NAIVE ASSASSINS WILL
REALIZE THAT THEY SHOULD NEVER
HAVE KICKED THE HORNET'S NEST.
IMPORTANT NOTICE - DISCLAIMER
All characters are 18 years old or older.
This is an entirely fictional work based on
cartoon characters for adult entertainment.
It shows no real people or events.
The characters are shown participating in
CONSENSUAL role-play for their own
personal satisfaction, simulating activities
which involve sexual dominance and
submission. No actual toons were harmed
in the making of this comic.
A PAIR OF BEAUTIFUL ASSASSINS FINDS THE WRONG TARGET.
THEY WILL PAY FOR THEIR MISTAKE DEARLY! THEIR SADISTIC CAPTORS WILL SHOW NO MERCY...
In Italy, during the time of the Renaissance, as great discoveries and works of art were reshaping the world into the one we know today, the height of man's triumphs was built on top of a festering, crumbling façade of corruption and vice.
Run by a secret organization that sought to abuse its power for the "good" of humanity, the church mutated into a shadow of its former self. While sculptors carved form from the rock and painters brought light to rooftop cathedrals, while farmers tilled waving fields of grain and merchants plied the waters of sea and ocean alike, a secret shadow war was boiling and bubbling beneath the surface, threatening to spill out into the streets and burst like an ulcerated boil upon an unprepared populace.
Fighting against this secret power corrupting the heart of the church was an ancient Order of Assassins, sworn to defend and protect freedom and the weak.
Two beautiful women belonged to this order, Maria and Lina. They were very good at their work.

They became known as The Shadow of the City, and the church feared and hated them.
Unable to tolerate this blatant, unrestrained, and insolent provocation, the church sends its most competent servant as bait to draw out this "Shadow of the City." Captain of the Guard, Saul Macchione makes public appearances, masquerading as Archbishop Christophe, hoping to lure out these callous murderers and bring them to justice.
His efforts do not unrewarded.
Soon, Captain Saul Macchione has not one but two assassins in his grasp, and much to his surprise, they are stunningly beautiful women. The Archbishop will be most pleased... most pleased indeed!
Later that day, Captain Saul Macchione brings the bound and helpless beauties to be judged and tried before the Archbishop Christophe himself! The holy man listens to these rebellious, arrogant girls and quickly deems them guilty!
Their punishment is swift, sadistic, and perverse!
They do everything to humiliate and shame their beautiful captive, and they succeed!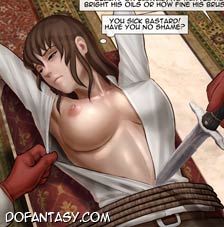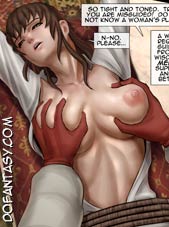 And the Archbishop Christophe does not restrain himself from participating.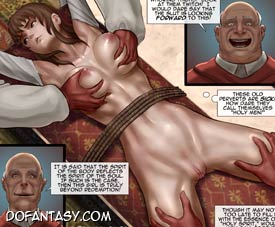 He too uses pretty Maria in ways that only the sickest and most twisted of men could possibly imagine!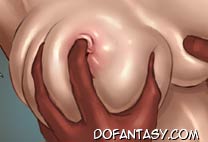 These girls are clearly a threat to himself and his organization. They could not possibly be working alone. There must be someone else who hired them, who directed them, who controlled them from even deeper underground. The Archbishop Christophe pontificates about these girls' heresies and ignorance and their inability to comprehend the grandness of his own, divine mission. He claims that they are too short-sighted to see the grand picture, but it is all simply an excuse. Sure, he may root out the source of the assassins, and that would be great too, but it is much, much more important to break these girls of their arrogance, their rebellious spirit, and their every will to live!
Archbishop Christophe sets Captain Saul Macchione to the task.
It is a task that the captain will take to with GREAT relish!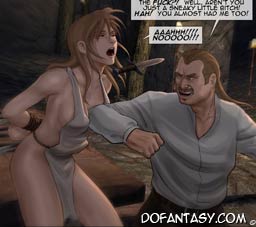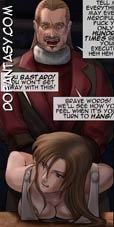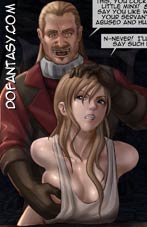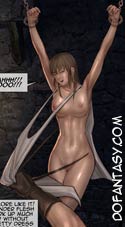 Deep in the catacombs beneath Rome, Captain Saul Macchione strips the girls of their remaining dignity and marches them deeper and deeper beneath the earth into the crumbling intestines of ages past.
There are wicked and cruel dungeons that were built back earlier than the memories of cities, nations, and empires dare remember, a shadowy place long forgotten and lost to the sun and the streets where ordinary people walk. But the church's corrupt, inner circle remembers these places and uses them extensively. The many and varied instruments of interrogation and cruelty are well-worn and as devious as their original inventors. The girls quickly realize that things are about to get much, much worse for them.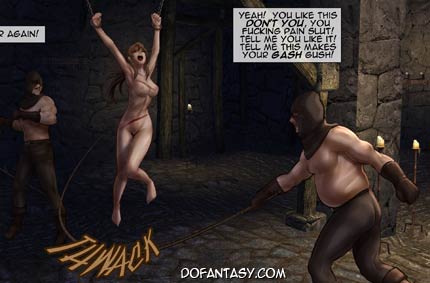 Captain Saul Macchione is nothing if not methodical. Fortunately for him, and unfortunately for the girls, he LOVES the task set before him. His cock throbs at the thought of slowly twisting and breaking these girls until they would give up every bit of their precious selves in order to avoid more pain. He takes them to task with the ardor and fervor of a man possessed. Captain Saul Macchione knows how to break people, and he is especially skilled in breaking beautiful, haughty women.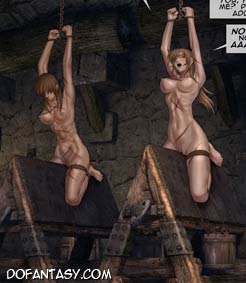 Captain Saul shows no mercy, and neither do his minions.
The girls will learn the meaning of pain and suffering and humiliation! No matter what they do, there is no hope for them down here! Their pleas fall on deaf ears, for there is no promise that they can give to a man who loves to break women and hear them scream in complete and utter agony!
"You'd best pray to your God, because he can't hear you down here!"
"Many girls march in here, but strange enough, none ever leave!"
There are no limits to a man who is drunk on sadistic lusts and power. Maria and Lina will pay for their crimes, both real and imagined, and these Shadows of the City will disappear into a much darker, depraved, and perverted shadow that does not see them as people or champions of freedom and justice. To these dark dungeons, buried beneath the earth and hidden from the world, Maria and Lina are only two tight, gorgeous, sexy, and horny bitches to be beaten, fucked, and broken.
And the fun has only just begun...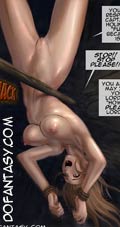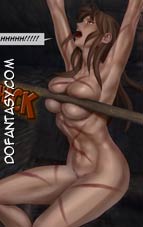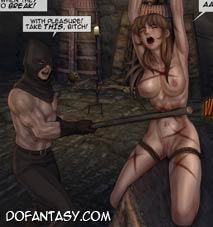 ______________________________________________
THE ARTIST FEATHER HAS DONE IT AGAIN WITH A WHOLE NEW SERIES SET IN RENAISSANCE ITALY. THESE STUNNING, LUSCIOUS, AND EXCITING VISUAL IMAGES, CAREFULLY AND LOVINGLY CRAFTED, WILL TAKE YOUR BREATH AWAY, AND THE NARRATIVE IS FAST-PACED AND CAPTIVATING.
______________________________________________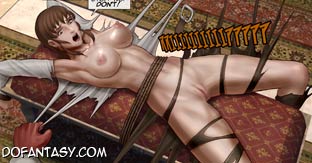 ______________________________________________
YOU WON'T WANT TO MISS THIS AMAZING NEW SERIES, BROUGHT TO
YOU ONLY BY THE SKILLED AND DEDICATED TEAM AT DOFANTASY.COM!
GET THIS COMIC WHILE IT'S HOT, HOT, HOT, OR YOU MAY JUST LIVE TO REGRET IT!