Use our On-Line 100% Secure EncryptedShopping Cart Ordering System. Simply browse
our site and Click the ADD TO SHOPPING CART buttons to place items in your Shopping Cart
[ HOME ] [ COMICS ] [ MOVIES ] [ NOVELS ] [ CD-ROM ] [ Order info ] [ Help ] [ ARTIST SITES ] [ SEARCH ]
[ Disclaimer ] [ CATALOGUE ] [ Copyright ]
FANSADOX COLLECTION 585
WHITE MEAT chapter 1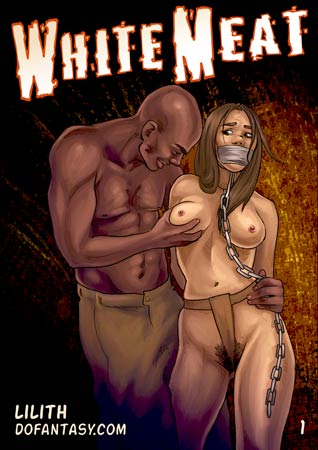 NEW IN PDF ELECTRONIC VERSION!
Adult Comic Album by LILITH.
HIGH RESOLUTION PDF deluxe edition
40 full color comic pages!!!
-COMPLETE, UNABRIDGED VERSION-
ROUNDED UP WITH A CLASS OF YOUNG NATIVE WOMEN, A HUMANITARIAN AIDE TEACHER IS PUT ON THE MENU WHEN A TRIBAL SHAMAN DEVELOPS A TASTE FOR WHITE MEAT!
DARK POWERS FLOW THROUGH AN UNCIVILIZED CONTINENT WHERE THE LINE BETWEEN TEACHER AND TARGET IS RAZOR THIN!
IMPORTANT NOTICE - DISCLAIMER
All characters are 18 years old or older.
This is an entirely fictional work based on
cartoon characters for adult entertainment.
It shows no real people or events.
The characters are shown participating in
CONSENSUAL role-play for their own
personal satisfaction, simulating activities
which involve sexual dominance and
submission. No actual toons were harmed
in the making of this comic.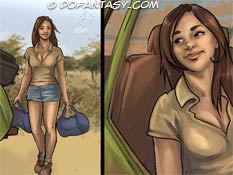 For eons Africa's parched soil has given birth to the flora and fauna which blanket the Earth. Its blasted deserts and choking jungles are testing grounds for life where only the most ruthless survive. In this unforgiving landscape, people have carved out civilizations that have survived for thousands of years. Under the thin veneer of progress, hot primal blood surges.
Laura Mendoza looked around the mud bricked building which made up her classroom. The few native girls who came to school looked up at her expectantly. She was so proud of them. In this corner of Africa, women were expected to only bear an endless stream of children when they weren't working like animals in the desolate fields. Yet these young women came to her class to educate themselves. Her heart swelled with pride and she promised she'd do everything she could to lead them to a better life.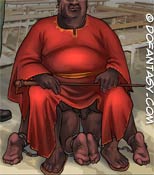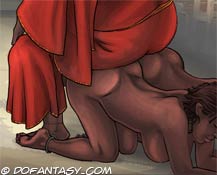 The soldiers swarmed over the school, herding the native women like wolves closing in on a flock of gazelles. Laura felt a surge of panic blast through her tanned body, and her long legs began to shake in the khaki shorts which had become part of her normal dress in this arid land. She raced towards the administration building when a sound made her whip around in fright. A shape lunged from the inky shadows and suddenly her legs gave out from under her.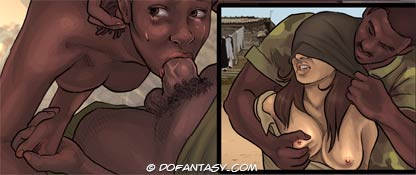 The iron bars soaked up the sun's fury and radiated it throughout the cage. The still air shimmered with heat, and Laura miserably shuffled to the center of the crude prison. She tried not to touch anything; the bars which surrounded her were hot enough to blister her fair skin. The dusky woman who shared the cell glanced at her, her dark eyes full of their shared danger. The look forged an intimate bond that only two women, frightened and lost, would understand. Laura leaned closer to the beautiful tribal woman until she could feel the other's soft breath on her skin.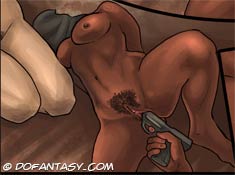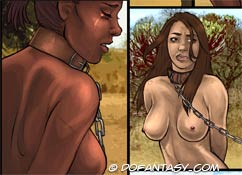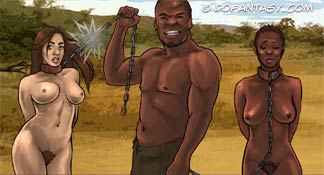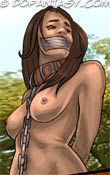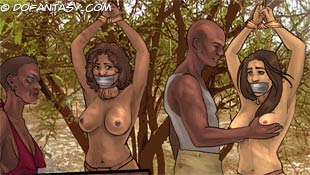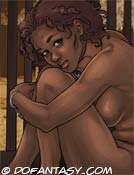 With piercing black eyes, the withered hag looked Laura up and down as though she were appraising a second-hand rug at the village market. "You'll do, my creamy-skinned plaything. I've been trading slaves since before you were a gleam in your white mammy's eyes. I know what men are looking for in a submissive, foreign beauty. They'll be rough on you, honey. Men around here are savage all the way to the bone. But they'll pay dearly for the chance to conquer a pretty foreign woman like you!"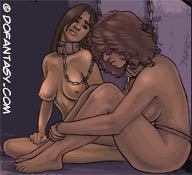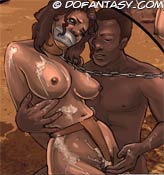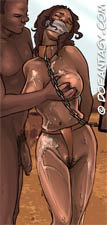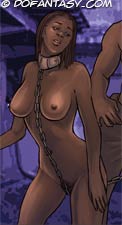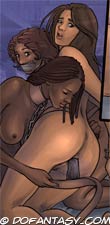 THE ACCLAIMED ARTIST BEHIND THE HOSTAGE HAS RETURNED WITH BRAND NEW CHARACTERS AND AN EXOTIC SETTING THAT WILL BLOW YOU AWAY! ALREADY RENOWNED FOR HER EXCITING ARTISTIC STYLE AND EXTRAORDINARY PLOT TWISTS, LILITH HAS COME THROUGH WITH A COMIC THAT WILL THRILL DEDICATED FANS AND NEWCOMERS ALIKE!
IF YOU'RE NEW TO LILITH'S ARTWORK,
THIS COMIC WILL MAKE YOU AN INSTANT FAN!